48,245 SF | Non-Profit Animal Shelter | Phoenix, Arizona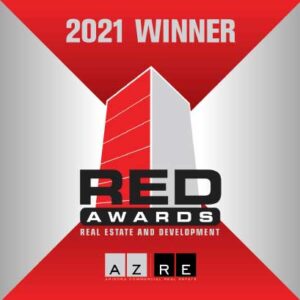 Heidi's Village is a non-profit animal welfare organization that partners with existing animal shelters and rescue organizations to provide temporary boarding for dogs and cats.  Its mission is to foster a community where animals are treated with respect, dignity, and compassion to decrease the number of animals abandoned and euthanized.
Heidi's Village is a nine-building campus designed in a Village setting, consisting of a central administration facility that houses admin services, adoption services, training rooms, grooming services, and a complete veterinary clinic. A series of eight buildings, housing the cats and dogs in thoughtfully designed air-conditioned spaces, flank the administration building.
Décor throughout the Village includes a unique lighting fixture in the main lobby that captures the animal theme, and many creative touches, including paw prints parading across the ceiling. The use of colorful paint and substantial decorative animal portraits and sculptures both inside and outside the Village's buildings suggests an upbeat, fun environment.  Clever "street signs" guide visitors and volunteers around the 5-acre property and link the "village" together.
Developer: Virginia Jontes Foundation
Owner: Heidi's Village
Contractor: Chasse Building Team
Construction Manager: Foursite
Interiors: Iconic Design Studio